>> Monday, June 23, 2008
I'm going to attempt to post a food with HFCS that surprised me each week. I might get lazy sometimes and include some not so surprising foods, too.

This week's winner is.... TONIC WATER! When I think of tonic water, I think of quinine, gin, and of course, high fructose corn syrup - NOT! I was floored when I learned that it's a very common ingredient of tonic water. The Beverage Institute for Health and Wellness says that tonic water is " Carbonated water flavored with quinine and a sweetener like sugar, high fructose corn syrup or low-calorie sweetener. Quinine, from the bark of the cinchona tree, is used as the base flavor in most bitters." Who knew?

It's apparently pretty darn hard to find tonic water without HFCS in it. There are a few brands out there that don't have HFCS in it for you hardcore gin and tonic drinkers - Q Tonic, Whole Foods 365 brand, and Fever Tree are a few brands that I came across, and I read that some of the diet tonic waters are HFCS free (but taste terrible).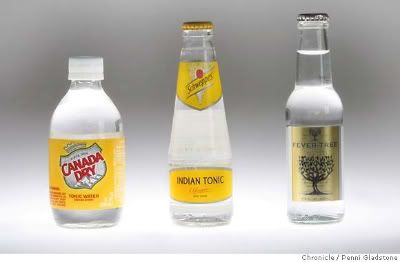 Thanks, Dani, for the suggestion of a surprising HFCS containing food of the week post. And thanks to Holly for mentioning HFCS in tonic water.